Transport of dangerous goods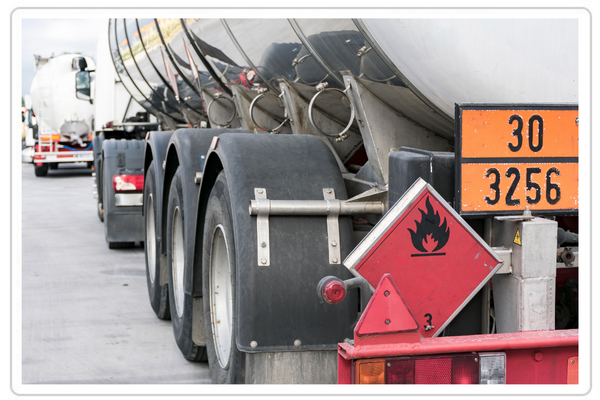 Dangerous loads require special preparation due to the potential threat they pose. Before transport, the goods must be secured and labeled in accordance with the applicable ADR regulations.
What are dangerous goods?
Dangerous loads are all kinds of goods that pose a potential risk to human health or life or pose a threat to the environment. Dangerous goods include: explosive, flammable, corrosive or radioactive materials, e.g. petrol or paints. Less obvious dangerous goods are everyday products such as batteries or aerosols. Such products must be properly marked and described. Thanks to this, the driver and other people involved in the transport of the cargo know how to handle the goods in order to, for example, avoid the leakage of the substance. The rules are set out in ADR (dangerous goods regulations), international regulations for the road transport of dangerous goods, in which we can find safety standards for the transport of this type of cargo as well as their classification and marking. The regulations are updated every 2 years, so you need to stay up to date. In order to transport dangerous goods, you must have an ADR certificate, which is obtained after undergoing training and passing an exam, and is renewed every few years. Lack of such documents in case of inspection is punishable.
Classification of dangerous goods, depending on the hazard posed, they have the appropriate class:
Class 1 Explosives and articles.
Class 2 Gases.
Class 3 Flammable liquids.
Class 4.1 Flammable solids, self-reactive substances and solid desensitized explosives.
Class 4.2 Substances that ignite spontaneously.
Class 4.3 Substances which, in contact with water, emit flammable gases.
Class 5.1 Oxidising substances.
Class 5.2 Organic peroxides.
Class 6.1 Toxic substances.
Class 6.2 Infectious substances.
Class 7 Radioactive material.
Class 8 Corrosive substances.
Class 9 Miscellaneous materials and objects
ADR symbols Each substance has an individual marking in the form of an orange table with numbers written in fractions. The table consists of a HIN (hazard identification number) and a UN (material identification number). In addition, the vehicle must have a diamond-shaped warning sticker (examples below).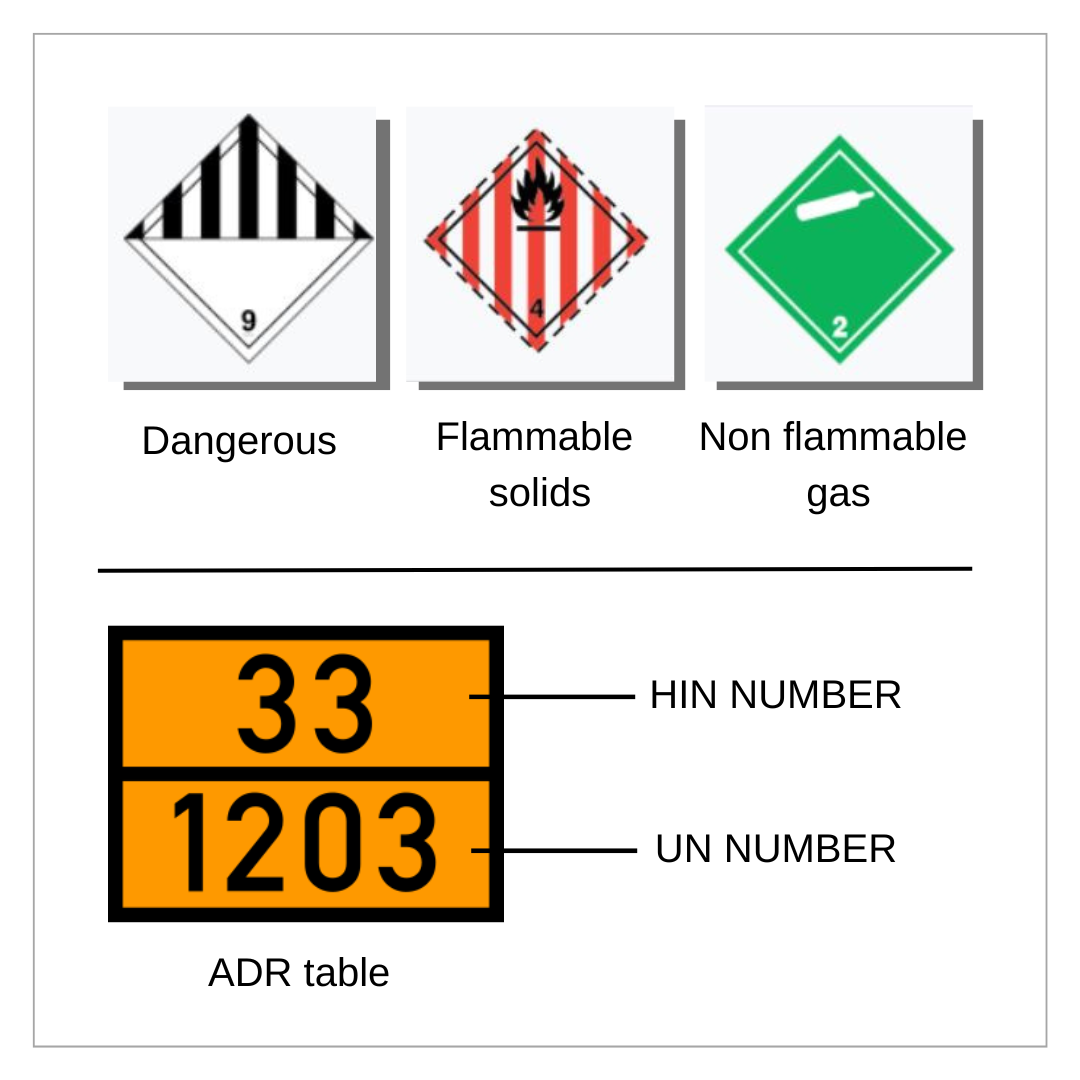 Planning the transport of dangerous goods
When organizing the transport of dangerous goods by road, it is worth remembering that the vehicle should be driven on roads with little traffic. In addition, the driver must avoid roads in poor technical condition as well as built-up areas to minimize the risk of an accident in the vicinity of e.g. residential estates. During the route, you should also not stop at city car parks. If the transport is outsourced, you need to make sure that the transport company has all the permits to transport dangerous goods. Thanks to this, we can be sure that we entrust the goods in the hands of professionals and reduce the risk of an accident. The loading of some smaller loads, e.g. accumulators or batteries, can also be planned in the Smartload application, while checking how to arrange them so that they take up as little space as possible and are properly secured.