Rail transport of goods - advantages and disadvantages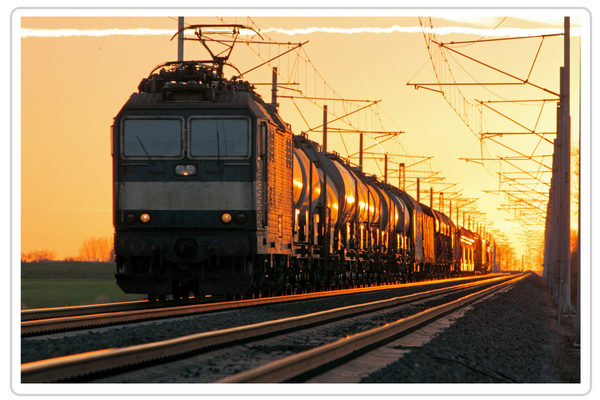 Rail transport is a cost-effective and ecological alternative, e.g. for the transport of goods by air. In addition, it is characterized by the safety of cargo during transport.
Goods can be transported by rail, i.e. coal, aggregates, hazardous materials (with some exceptions). Crude oil and petroleum products or gases are most often transported in this way. In addition, rail transport offers many different cargo spaces, e.g. tankers, refrigerators, coal wagons, covered wagons or containers.
Advantages of rail freight transport:
Delivery time is shorter than sea transport due to the lack of road congestion, so freight trains are rarely delayed

The costs of transporting goods are lower compared to air transport

Stable transport prices due to the lack of dependence on, for example, the price of crude oil

Safety of cargo during transport due to very rare railway accidents or damage to goods during transport

Ability to transport very heavy loads, fewer restrictions on the transport of oversized goods than in the case of road or air transport

A very ecological solution, compared to other means of transport, due to the small amount of environmental pollution

Disadvantages of rail freight transport:
Higher transport costs compared to sea transport

Longer delivery time compared to air transport

Cost-effective mainly in the case of long tranches, which is also associated with the need to undergo many customs clearances and cross country borders.

The need to stick to a strictly defined route due to the infrastructure (tracks) and some related problems, e.g. different countries have different rail widths

In the case of general cargo transport, it is not very profitable, it is better to choose another alternative (e.g. road transport as a top-up)

It requires combining several types of transport so that the goods are delivered "door to door"

Although most production or transport companies are dominated by road or sea transport, it is also worth knowing the alternatives. Especially when it concerns unusual loads. Therefore, rail transport is also a noteworthy means of transport to consider when planning the transport of goods. If you have doubts about how to arrange loads in a given cargo space, use Smartload and forward your loading plan.