Self-service warehouses - for whom? Advantages of self-storage services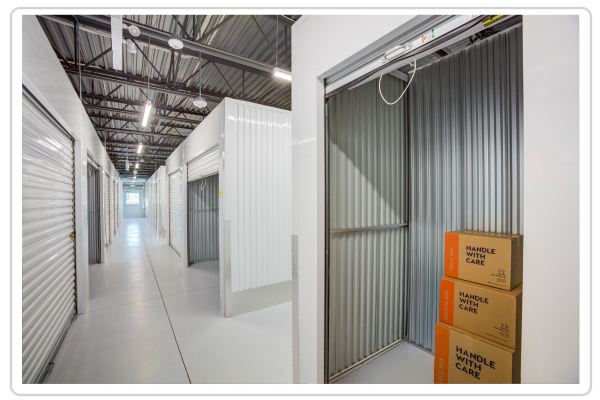 Traditional warehousing may not work for small businesses due to high maintenance costs. In recent years, self-service warehouses, which are characterized by flexibility and control over expenses, have become increasingly popular.
The Self-Storage service involves the tenant selecting the appropriate space. Warehouse rental companies often make the choice easier thanks to visualizations that allow you to estimate how much will fit in a given storage compartment. Warehouses usually have an area from 0.5 m² to even 30 m², which allows for great flexibility. Additionally, the rental length can also be adjusted to your needs, and the formalities can be completed entirely online. Sometimes such a self-service warehouse is also a container warehouse. The difference between them is small. Typically, a warehouse is located in a hall, divided into smaller storage rooms, while a container warehouse is a rental of a sea container located in a closed yard. This type of service is most often used by individual customers looking for additional space to store their belongings, but companies are also a growing group of users.
What companies use Self-Storage warehouses?
Self-service warehouses are used by various types of companies, including: for archiving documents, marketing materials or surplus goods. Many sales representatives from various industries decide to rent space to store their products. Currently, some self-storage warehouses also allow shipping work in a given room. This means that e-commerce companies store goods, complete and prepare their orders for shipment in a rented room. Thanks to this, start-up companies have access to space at a relatively low cost. In addition, such warehouses are secured with a padlock or code, monitored 24 hours a day, and some facilities have security guards. In addition to online businesses, self-service warehouses are also used by construction companies to store tools, materials and machines necessary for work. All kinds of other companies providing renovation, moving or cleaning services also use this solution to store surplus materials. For some companies, self-service warehouses are also the starting and ending point of work, where they collect and return their work tools. For example, a cleaning company may store cleaning products and cleaning equipment in a self-service warehouse and put them back in place after the job is completed. Another group that uses self-storage services are seasonal industries. Most often, these are distributors of Christmas decorations who, due to seasonality, need more or less space to store their goods, depending on the period.
Advantages of self-storage
The main advantage of this type of services is the flexibility they offer. The company can adjust the dimensions of its box to current needs. It is possible to reduce or increase the area and associated fees. Moreover, the tenant has full control over their inventory and their arrangement in the rented space. Also, the prices of self-storage facilities are much more favorable compared to traditional ones, which allows you to reduce costs. Companies also do not have to worry about hiring security and investing in monitoring, because self-service warehouses offer this at the subscription price. Customers can access their goods at any time, which is often impossible in a large hall with fixed opening hours. Moreover, warehouses often have to be rented long-term, and the company undertakes to sign and abide by the contract. However, in the case of a self-service warehouse, this is not required due to the possibility of short-term rental. Companies also do not incur additional maintenance costs, i.e. utilities or electricity in the rented room.
When choosing among many warehouses, it is worth considering and planning carefully the arrangement of goods. It may turn out that it is enough to choose a smaller storage compartment and pay a lower subscription fee thanks to the optimal arrangement of goods. The Smartload application allows you to arrange various types of products on a pallet of any size. By adding your own palette, you can create a visualization on which many boxes of various sizes can be arranged.
Read also: How to plan the distribution of goods in the warehouse?